Although not controversial, as long as Euro 2012 Daniele De Rossi with a unique style that is wearing a long sleeve on his left arm and let his right arm short sleeve shirt.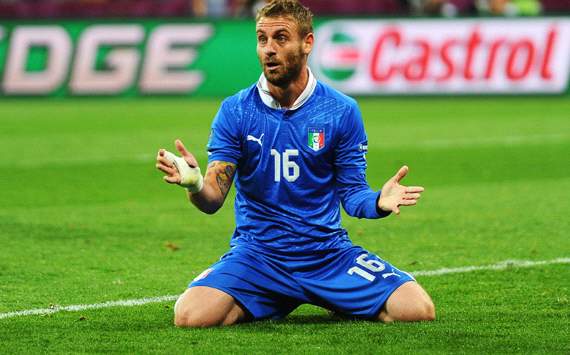 Eccentric fashion style has been used De Rossi from the first Euro match when Italy against Spain. Perhaps this style into a kind of lucky charm for De Rossi and Italy itself that is now paved the way to the final tournament. However, what exactly is the reason De Rossi just use one long-sleeve?
De Rossi is not the player who likes to dress up, so excuse the choice to dress as a new trend in fashion world may be crossed out. The most plausible reason is related to the tattoo he had. De Rossi has many tattoos all over his body-strewn. Some say, wear long-sleeve De Rossi for refusing his tattoos visible Teletubbies public during the Euro held. The reason this is broken because of a tattoo on his right arm Teletubbies De Rossi.
The next reason, De Rossi has a new tattoo. Thus, long-sleeve tattoos are used to protect it from damage. Some say the reason is true, but not to protect a new tattoo, but a tattoo is very meaningful to De Rossi and her daughter. The reason put forward is that many of De Rossi deliberately wear long-sleeve to cover the entire tattoo on his left arm as a sign of respect. The reason this makes sense, but many other players in the Euro which has no "respect" to show off their tattoos on his arm. Meanwhile, some are half-jokingly says De Rossi want to emulate the Roman gladiators are also often wear long-sleeve in one of their arms.
If traced, the style of clothing is also often used De Rossi playing for AS Roma. On an internet forum, there are Roma fans who said, in a game De Rossi torn shirt sleeve. At that time, De Rossi Roma played very well and win. After that, "Capitan Futuro" decided to wear a long-sleeve to give him luck while playing.
So, what is the tattoo on her left De Rossi? As reported by Bild, there De Rossi has a tattoo of heaven and earth, sky blue, and fire. There is a Latin language text that reads, "Ubi tu Gaius, ego Gaia IBI". Meaning of the motto is, "Wherever you are, I'll be there".
FIFA rules do not regulate in detail the player can use a combination of long-sleeve used De Rossi. FIFA regulations outline only for long-sleeve or long-john (tights beneath shorts) should be one uniform color with the team that defended the players who wear it.